The Sacred Lotus, petals on beauty
Lotus(Nelumbo Nucifera) is a very ancient water plant. Lotus is one of the popular motifs used in Indian textiles, motifs are generally inspired by nature, human figures, architecture from buildings and animals so on, this flower occupies a unique place in Indian art, textiles, poetry, literature, religions purposes and mythology of ancient India. Although this flower is rooted in mud, it continues to float on the water even after emerging from the mud, it remains unstained! The flower is represented with both its opening and closing petals indicating the ups and downs of life. In fact many Hindus are infatuated with lotus flowers, Gorgeous Lotus are called by varies names such as Kamal, Tavare-gadde, Motunkamal, Utpala, Pundarika, Tamarai and Padma and are found in white, pink, red, purple and blue are found in Asian countries. In general these beautiful Lotuses in textiles are woven, stiched, embellished, embroidered, patched as Applique, block printed and many varies ways in fabrics, and not to forget Lotus is the national flower of India!
Lot of importance is given to Lotus and is a well-celebrated in Hindu religion, the Goddess Lakshmi(goddess of wealth) holds lotus in her hand, Lord Krishna, who is the avatar or Lord Vishnu, has his seat on Lotus. Saraswati the Hindu goddess of learning, knowledge, music, arts and wisdom who is sits recline on a Lotus. The lotus is also a Hindu and Buddhist symbol of consciousness and is associated with symbolic purity of the body, mind and soul. One of the best Lotus architectural temples seen in India is the 'The Lotus Temple' is been inspired by the lotus flower, I remember I was too young when I had been to Delhi couple of times, inside the temple much of silence was maintained. Thus Lotus are predominantly used in Chanderi sarees, Kanchipuram silk sarees and Paithani silk sarees.
* Click the image above to watch this video on Youtube ↗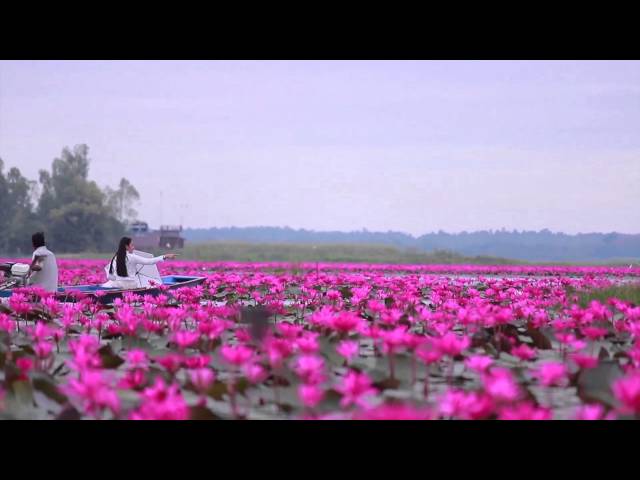 * Click the image above to watch this video on Youtube ↗
---
References:
https://en.wikipedia.org/wiki/Nelumbo_nucifera
https://en.wikipedia.org/wiki/Lakshmi
https://en.wikipedia.org/wiki/Lotus_Temple
http://www.thehindu.com/todays-paper/tp-national/tp-tamilnadu/lotus-the-national-flower-of-india/article3774100.ece
https://en.wikipedia.org/wiki/Hatha_yoga